MGM 1934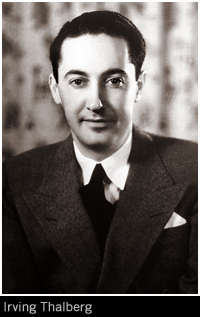 While doing concert tours in Europe in 1933, Jeanette MacDonald met Irving Thalberg and his wife Norma Shearer in the South of France and quickly became fast friends. Thalberg was impressed with MacDonald and saw her as a potential superstar in MGM musicals. Finally, in 1934, MacDonald signed a 7-year contract with MGM, much to the delight of Thalberg and Louis B. Mayer, who, it was said, was very smitten with MacDonald.
MacDonald's MGM film debut was "The Cat and the Fiddle" (1934), opposite Ramon Novarro; it did okay at the box office. Her second film was a remake of "The Merry Widow," where she was teamed for the fourth time with Maurice Chevalier. Ernst Lubitsch directed the film. MGM hoped to cash in on the Lubitsch, MacDonald and Chevalier team magic of Paramount. Unfortunately however, the film was so expensive that it couldn't make back the cost of production, though the critics loved it.
The Cat and the Fiddle (1934)
MGM
Director: William K. Howard
Cast: Jeanette MacDonald, Ramon Novarro, Frank Morgan, Charles Butterworth, Jean Hersholt, Vivienne Segal, Henry Armetta
Songs: "The Night Was Made For Love," "Try to Forget," and "She Didn't Say Yes"
Music by Jerome Kern and lyrics by Otto Harbach
This was Jeanette MacDonald's film debut at MGM. It was a lavish musical version of the stage play by Jerome Kern, with the finale in glorious Technicolor. Despite opening to good reviews, the film never became a big box office hit.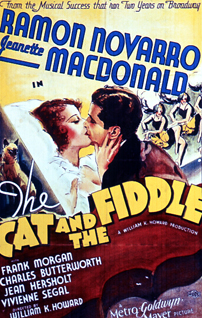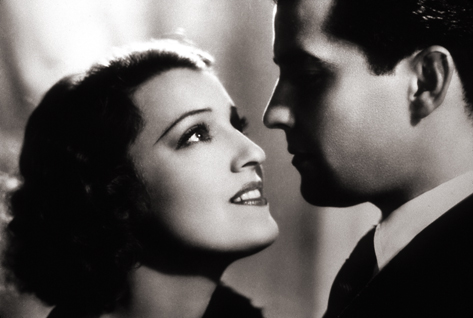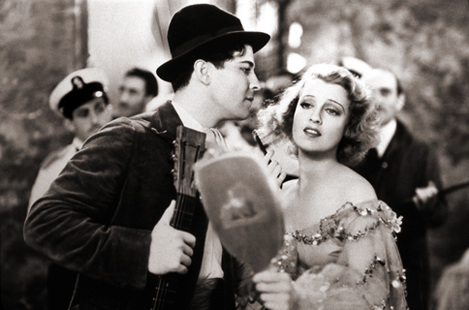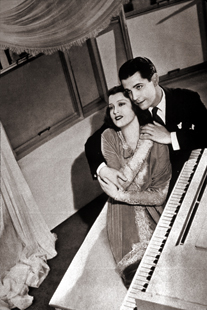 The Merry Widow (1934)
MGM
Director: Ernst Lubitsch
Cast: Jeanette MacDonald, Maurice Chevalier, Edward Everett Horton, Una Merkel, George Barbier, Minna Gombell, Sterling Holloway, Henry Armetta, Donald Meek
Songs: "Girls, Girls, Girls," "Widows Are Gay," "I'm Going to Maxim," and "The Merry Widow Waltz"

Based on a 1905 operetta by Franz Lehar. It was filmed once before as a silent in 1924 with John Gilbert and Mae Murray. Now as a sound film, producer Irving Thalberg spared no expense. It was the last film to reunite the talents of Lubitsch, Chevalier and MacDonald. The Merry Widow was so expensive that only a miracle could have saved it at the box office, even though the critics applauded the film. Officially Jeantte MacDonald was now the Queen of film musical operettas at MGM.