Hello, welcome to my website on Jeanette MacDonald, Hollywood's singing redhead soprano. Time has not been kind to Jeanette MacDonald. Today, most people think of her as that singing partner
of Nelson Eddy, not realizing that in her heyday she was one of the biggest box-office stars of the 1930s. Despite the eight films with Eddy, MacDonald also appeared alongside other male stars such as Maurice Chevalier, Clark Gable, Spencer Tracy, John Barrymore, Jack Buchanan, Victor McLaglen, Brian Aherne and Allan Jones. She was a singer but she also was a top-notch actress and a superb comedienne, not to mention her beguiling charms, good looks and glamour. At the same time, Jeanette MacDonald was a strong businesswoman in Hollywood, earning her the title "The Iron Butterfly." She took her Hollywood career and her self-worth seriously but never looked down on her audience, fans or co-workers. So enjoy a look back on this legendary lady who enthralled millions of movie fans with her golden voice back in the 1930s and 1940s.
- Pierre Montiel, October 2011

BIOGRAPHY (1903-1965)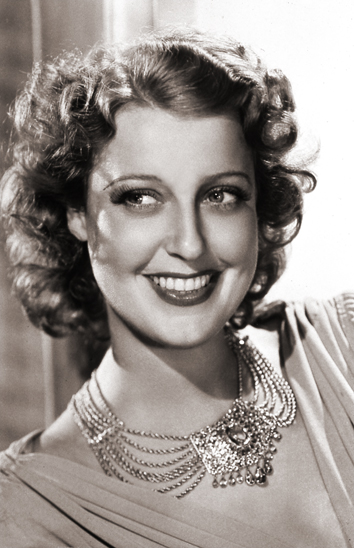 The effervescent singing diva, Jeanette MacDonald was born on June 18, 1903 in West Philadelphia to a comfortable middle class family. Her full name was Jeanette Anna MacDonald and she was the youngest of the three daughters. When Jeanette was five years old, she sang at a recital given by a dancing academy that her sisters attended. All three girls were musically inclined and encouraged by their mother, Anna. Before long, the girls began appearing in many amateur theatrical shows in Philadelphia. In 1920, Jeanette followed her sister to New York City; Blossom MacDonald was already on Broadway. Jeanette appeared in the chorus of The Demi-Tasse Revue at the Capitol Theatre on Broadway. Soon she started to get nicer parts in musical revues because of her singing talent. By the late 1920s, Jeanette MacDonald had become a very successful Broadway musical star. Contrary to what people may say, she was not an opera trained singer but learned her art on the musical stage. It was at this point in 1929 that she met film director Ernest Lubitsch. He was very impressed by her and was responsible for her Hollywood career. Lubitsch cast her in his new upcoming talking picture, "The Love Parade;" it was her screen debut, opposite the great French music hall star Maurice Chevalier. Overnight she became a sensation in Hollywood and was the first great musical star of the movies. Immediately she was given a Paramount contract during which she appeared in a number of films, including two more films with Chevalier.

By 1932 however, the musical film vogue lost its momentum and she was fired from Paramount. At the same time Hollywood also lost interest in her. In 1933, she made a concert tour of Europe, traveling to France, Belgium, Italy and Spain. Everywhere she went, MacDonald attracted huge crowds and fanfare. While in the South of France she met Irving Thalberg and his wife Norma Shearer who were vacationing there. Thalberg offered her a contract with MGM and she accepted. Louis B. Mayer was more than happy and MacDonald soon became his favorite star at MGM. In 1935, MacDonald was teamed for the first time with baritone Nelson Eddy in "Naughty Marietta." So successful was the film that MacDonald and Eddy co-starred in seven more films until 1942 when their popularity waned. MacDonald semi-retired and helped with the war effort entertaining the troops and in 1943, made her opera debut in Montreal. After the war, MacDonald made two more films for MGM without Eddy and quit the movies altogether in 1949.
The 1950s found Jeanette MacDonald in the Las Vegas nightclub circuit, television and on national road tour productions such as "The King and I." In her final years, MacDonald developed a serious heart condition. She died on January 14, 1965 in Houston, Texas while awaiting heart surgery; her husband Gene Raymond was at her bedside. She was 61.